Real Estate Magnetic Business Card Baseball Schedules
The Lockout is Over - Baseball Starts on April 7th
SAVE 30% OFF ReaMark's Baseball Schedules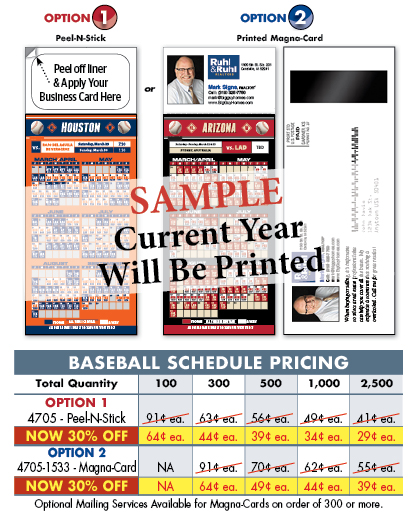 OPTION 1 - Peel-N-Stick – Peel off the liner and apply your business card. Peel-N-Stick minimum order is 100, increment of 100. Ships in 2-4 days.
OPTION 2 - Magna-Card - Works great as a direct mail (or bulk mail) piece, hand-out item and it fits perfectly in a number 10 envelope.
Magna-Card minimum order is 300, increment of 50. UV-Coated on one side with one 3" x 1", 12 mil. magnet attached to the back.
3.5" x 8.5" actual size

Ships in 5 business days (please allow 2-4 days for delivery)

Mails First Class at 1 oz. rate

Fits in a standard envelope (not included).

Optional mailing services available. (min. 300) Call 800-932-2957.

*All times are local. Dates and times are subject to change without notice **Due to MLB restrictions, cities and team colors are printed on schedules; however, team names and logos are not.