SHOPPING TOOLS
Have Questions?

Order By Phone
1-800-932-2957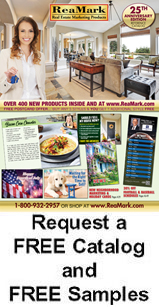 New Phone Hours!
7am - 3pm PST Mon - Fri







ReaMark wants to hear from you!

Are there additional real estate marketing products

that you would like to see in our catalog? Is there

other information that we can include on our website

to make your experience better? Please let us know!

Postcards, Newsletters, Promotional Items and More.


Over 40 thousand Real Estate professionals like you use ReaMark's Real Estate Marketing Products to build and keep their client base. You can trust that our high-quality Real Estate Postcards , Real Estate Newsletters , Real Estate Calendars , Low Prices, Fast Printing, and 100% Satisfaction Guarantee will make us the company you depend on too! But don't just take our word for it. Hear for yourself about ReaMark Real Estate Marketing Products from some of our past customers: Testimonials


ReaMark, Real Estate Marketing Products has over 40,000 Real Estate Agents marketing themselves by using our exclusively designed Real Estate Postcards, Real Estate Newsletters, Real Estate Calendars and other unique Real Estate products. Call us today and we will help you design your own unique Real Estate marketing plan to meet your sales goals and budget.