Every Door Direct Mail (EDDM) is a service offered by the U.S. Postal Service which allows you to mail a postcard to every single house on a mail carrier's route. No need for a mailing list or permit. Mail your entire neighborhood for as low as 49¢ ea.
Large 6.5" x 9", 14 pt. thick card stock, UV coated front and back.
Optional Extra Large 6.5" x 12" for only 7¢ more.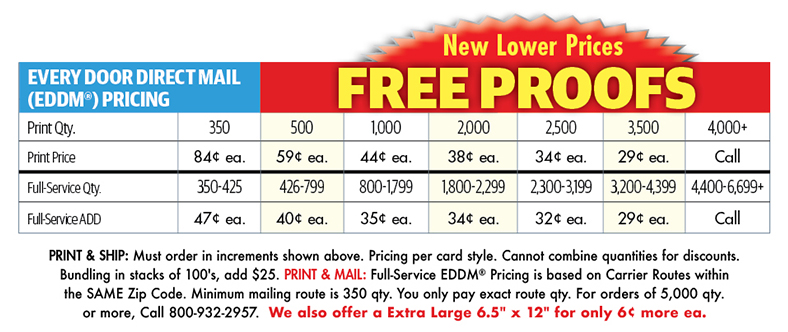 HOW TO ORDER EDDM:
STEP 1: Determine Your Route & Quantity:
Log on to USPS's EDDM website at:
www.usps.com/business/every-door-direct-mail.htm
to select your targeted zip codes or carrier routes, and get a total count. Call Us, We Can Help You.
STEP 2: Select Your Design:
ALL POSTCARD STYLES IN OUR CATALOG & ONLINE ARE AVAILABLE AS EDDM! Below are some of our Custom Property Marketing card styles, but you can choose any card you want (ie. Recipe, Home Tips, Animal, Neighborhood Marketing, etc.) Just browse through our postcard selections and let us know your card choice and we'll make it into an EDDM for you. We can also custom design anything you want for FREE!
STEP 3: Choose Delivery Option:
a) Print & Ship — We ship your cards to you if you want to take care of the paperwork, bundling, delivery to the Post Office, and pay for postage yourself. (Turnaround time: 4 business days for printing after proof approval, plus 2-5 bus. days for shipping time)


b) Full Service Print & Mail — WE OFFER FULL SERVICE EDDM! Just tell us your zip codes and carrier routes, and we'll take care of everything from printing to mailing out your EDDM. (Turnaround time: approx. 10-15 business days including print and mail to reach most 'Target In Mailbox' after proof approval.)