SHOPPING TOOLS
Have Questions?

Order By Phone
1-800-932-2957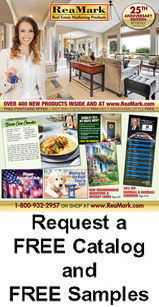 Real Estate Calendars | Personalized for Real Estate Agents
All Calendars Available for Every Month of the Year.



Increase Your Leads with Real Estate Calendars.
Here at ReaMark we offer

over 400 different designs of real estate calendars in 10 different styles

to fit your needs. The types of real estate calendars consist of the following: magnetic business card tear-off calendars, fully magnetized 3.5" x 4" and 4" x 7" real estate calendars, our new real estate wall calendars, jumbo postcards with or without magnetization calendars, as well as custom real estate calendars. We can even custom design these calendars for other industries including mortgage, new homes, apartments, hair salons, automotive and insurance.
Real Estate Magnetic Calendars
Full Magnet… Real Estate Year At A Glance

4 Types Full Magnets: 3.5" x 4",  4" x 7" & House Shaped.

Over 200 styles. Custom Design Available. FREE Proofs.

NOW SAVE 20% – 30% OFF

Magnetic Tear-Off Calendar
Clearance Magnetized Tear-Off Real Estate CalendarsNOW SAVE 20-50% OFF

Wall Calendars-Stapled
SAVE 20% OFF
27 New 2024 Styles


Jumbo Postcard Calendars with Magnetic Strip
JUMBO Calendars with Magnetized Strip

Over 100 Jumbo 8.5" x 5.5" Styles.

YOUR Information Printed in Full-Color. FREE UV Coating.


NOW SAVE 20% OFF
Prints in 6 Days.

UV Card Calendars
Economy UV Coated Calendars

Over 15 styles to Choose From. Now as low as 29˘ ea. 

Low Minimums. Ships Fast.


NOW SAVE 20% OFF

School Calendars
Full Magnet… School & Custom Real Estate Calendars

Full Magnets: Large Easy to Read Featuring YOU. 

Any Design & Colors You Want. FREE Design & Proofs.


NOW SAVE 20% – 30% OFF

Magna-Peel & Clear Peel Postcard
Ready to Mail JUMBO Laminated Postcard with a Magnet

GET NOTICED!! Over 30 Designs or FREE Custom Design. 

Price Includes Design, Jumbo Postcard and Full Magnet.


NOW SAVE 20% – 25% OFF