Real Estate Newsletters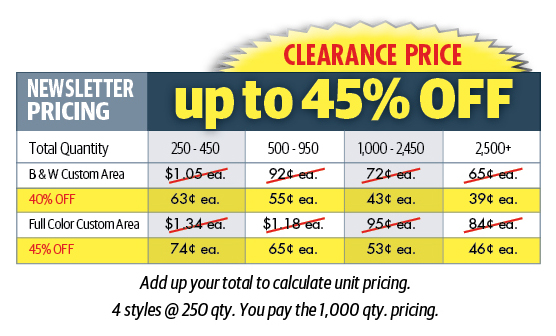 SAVE BIG on

Clearance Real Estate Newsletters! Now up to 40% OFF.

ReaMark 4-page Real Estate Newsletters help you build your client base and increase your sales!
You have 2 large customization areas to print anything you want in Black & White or Full-Color.
Final size HALF-FOLDED down to 8.5" x 5.5".
Choose any style(s). Minimum per order = 250 (Min per style = 250) Add up your total quantity to calculate unit pricing.
4 x 250 Black & White Personalization only $430.
4 x 250 Full-Color Personalization only $570.



Select one of our custom areas panel options or we can design one for you for FREE! Customization panels available in B/W or Full-Color. (The rest of the newsletter is always in Full-Color)



Email any Photos, Logosí etc. to mail@reamark.com



You'll receive your free proof in 2-3 business days. You will not be charged until you approve your proof. Most orders ship within 5-10 business days upon proof approval. Allow 2-5 business for UPS delivery.



Clearance prices are so low, no other offers or group discounts apply.
Click here for more about Real Estate Professional newsletters and custom area panel options