How to Order Postcards - ReaMark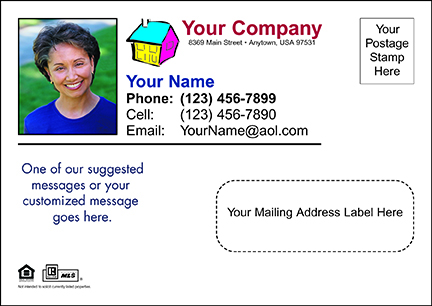 ReaMark postcards are printed on high-quality thick 12 pt. coated card stock to help keep you cards looking professional even through mailing. (Most other companies print on cheaper 10 pt. paper that damage more easily in the mail)
-You can mail standard size postcards First Class for 34¢ ea. and jumbo size postcards First Class for 49¢ ea. –or- we can mail for you for as little as 34¢ ea. Click here to learn about ReaMark Mailing Services.
-Fast Delivery: 2 business days for a proof, most orders ship out within 3 business days upon proof approval. Allow 1-5 additional business days for UPS delivery.
How to Order Postcards
1. Choose your desired card front.
You may click on each postcard image to get an enlarged view.
2. Choose Black & White or Full-Color Backside personalization.
All cards are full-color on the front side.
3. Choose Standard Size (4 1/8" X 6"), Jumbo Size (5½" X 8½"), EDDM (6½" x 9" or 6½" x 12").
Most cards are available in standard, jumbo and EDDM (Every Door Direct Mail) sizes.
4. Select your desired card quantity.
For stock, standard and jumbo postcards, minimum total postcard order is 300. Minimum order per postcard style is 100 qty. Must order in increments of 50. Personalization: 500 or more total cards = FREE, less than 500 cards = $15.
Minimum order for custom postcard is just 300. Minimum order for Every Door Direct Mail is 500.
5. Add other cards styles.
Maximize your savings by adding up the total quantity of postcards in your order to get the higher quantity price break. Example: Order 500 each of 4 card styles, and all your cards will be priced at the 2000 qty. pricing level.
6. Personalize your card backside.
After you have selected all your card styles, you will be prompted to log in or create an account in order to personalize the back side of your cards.
7. You will receive a FREE proof and will not be charged until you approve your proof.
Unless you do not require a proof.